When I go skating it really bugs me that the pockets of my jackets are open and stuff could fall out, it's bugged me since skating at Bristol when a couple times I lost the locker key from my pocket (I realised immediately, as it went ping on the ice), so I had to remember to take a safety pin with me… although in the end I just left the safety pin on the key and made sure I used the same locker each time 😀
At Swindon the key doesn't prove too much of a problem as it's a really annoying bracelet type one, but instead it's really annoying worrying about loosing tissues or the lesson tickets. I've not had much luck finding nice zip up jacket which was not too warm or expensive with zipped up pockets, then I realised there was nothing stopping me putting a zip into a normal hooded jacket.
I've got to admit that this idea has been in my head for so long that the original jacket I purchased to add a zip to has pretty much worn out, so I had to buy a new jacket! but finally here it is, and it was very easy to do whilst sitting on the sofa watching tv… my favourite type of project!
Required materials:
Hooded Jacket (didn't necessary need to be hooded, but the one I found was)
15cm zip
hand sewing needle and thread
I went for a different colour zip to the jacket: a) for contrast, b) because I already had it and could be bothered to go out and by a new one.
Because of this I choose matching thread to the jacket as stitching the zip in will create another layer of top stitching.
Steps:
1) I found this jacket in Aldi for £10.99 which was just what I wanted. It's quite thin and lightweight, but warn enough. It's also nice and stretchy, and the arms are long enough to be able to use the thumb holes in the cuff, which wasn't the case with the last jacket I bought.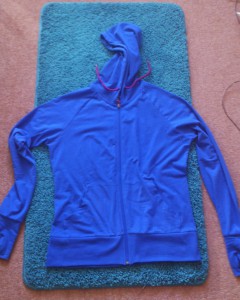 The pocket wasn't ideal, the first jacket I bought for this purpose has a straight pocket opening that went in line with the side seam. But I really liked everything else about the jacket as it was nice, fitting, stretchy and simple (no ruffles etc like others I'd seen) so I decided to see if I could get the pockets to work.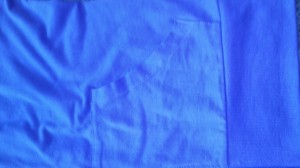 2) The zip, I found the 15cm was the right length for my pocket: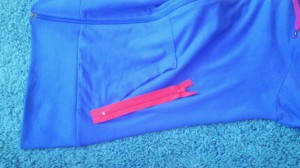 So the next step was to pin it in to the pocket opening: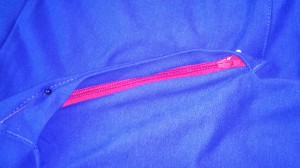 3) I then hand stitched the zip in, I made sure the stitching was parallel to the original top stitching on the outside of the jacket: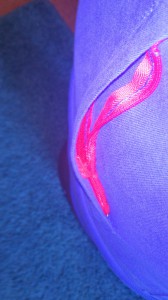 4) and the zip is finished, I now have one pocket that I can zip up to ensure that the contents stays safely inside