First things first, my favourite tool(maybe toy is more appropriate!) is my Silhouette Cameo 🙂
I thought I'd better introduce it, as I expect it will appear a lot in this blog.
I started saving up for the Silhouette SD in the summer of 2011, and then heard about the Silhouette Cameo. First at this news I thought brilliant, by the time I've saved some, the SD may be on sale due to the cameo and I'll be able to afford one earlier, but this was then followed with the thought that I'll actually need to save even more money as I'd now want the new machine. So I started saving with the aim of even more money being needed.
In May (earlier this year, 2012) I had a bit saved, although most that had been saved had gone on other craft items. But suddenly my husband decided to buy a new soldering iron (quite an investment), so I took it as my chance to buy a new tool too, so after checking the finances I ordered one.
I looked through deals and offers and decided on the MDP Supplies Silhouette Cameo pack B package.
It's a great package if you want to do vinyl's and T-shirts. Although I've bought lots of different colours since. The picture just shows how much you get, not the colour selection as I got sheets of: black, white, red and green sign vinyl and gold, silver, purple, red and blue sheets (and possibly orange, I know I've bought more since, but forgotten if there was any in the package originally) of T-shirt vinyl.
Some of the vinyl stickers I cut during my first attempts at using it: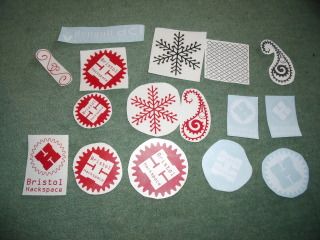 Then I made some t-shirts for an event that our Hackspace was helping at as seen here:

This was done using hot peel t-shirt vinyl (like the stuff which came with the machine), I've also used cold-peel, but didn't get very good results. I think the hot peel is more adapt to begin used with an iron instead of a heat press.
I also made use of the free $10 to buy some designs to make a box and card quickly before my mums Birthday.
Here's the box that I made, with a sliding drawer:


The box was cut from core'dinations card, whilst the writing was done using the pen tool
This is one with the drawer slid out (Along with the bracelet which I also made for my mum)

and the card:

I also made an insert which was drawn with the pen tool:

I've recently created some stickers for a friend and did a step by step guide on how they were created which I will post soon!