Back in September I made a list of projects I wanted to complete, the first was to make the quilters ironing pad from http://www.modabakeshop.com .
I already had a Moda Sunkissed Charm pack, so I used that to make the top.
Firstly I laid out the top (If you look closely this wasn't how they ended up!):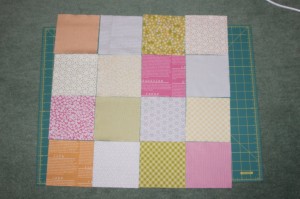 Then I made rows of 4 charms, the seems were then ironed out flat on my big ironing board, which is a pain to move and always gets in the way, hence the project.
The 4 rows were then sewn together to make a 4 by 4 block.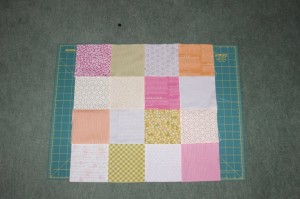 After mentioning in my first post that I needed to get some thermal wadding, Emma from Patchwork and Pins offered me some which was left over from a previous project 🙂 Thank you Emma!
I also got some Heat resistant fabric which was called Therma-Flec from The Cotton Patch. I expect I could have got away with only using the thermal wadding, but as the original instructions said to use both I though I would too for peace of mind (I would hate to ruin the table surface with the heat of the iron).
I then layered my top on to the wadding and the Therma-Flec backing and trimmed it all down to size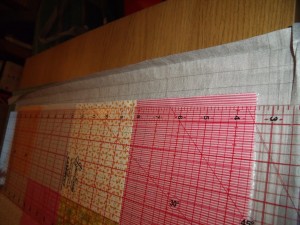 Then I used the clover wonderclips (I really like these, they are awesome) to keep it all together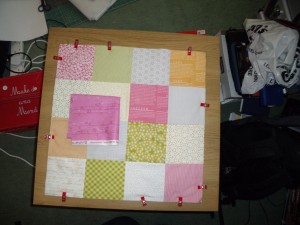 Next up I found some co-ordinating fabric to bind it, and then cut it into strips and joined them together to make a piece long enought to go around it
I then binded the ironing mat, I use the method shown here over on the make it & love it blog
Here's the finished item:
Front: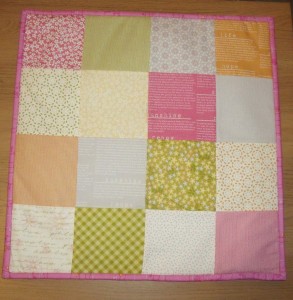 and
Back: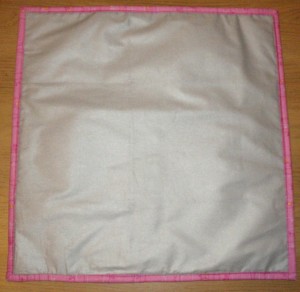 Embarisingly the project was finished in October, and 80% of this post has been sitting in drafts since then. I'll try to actually post stuff more frequently and quicker in the future 🙂