I've got a lot of sewing projects currently listed on pinterest, so thought I'd commit to completing some by posting a list of my favorites and order them (ordered based on my ability and equipment needed).
So here goes:
First Project:
A Quilter's Ironing Pad, this would be so handy as when we bought an ironing board we decided to get a slim line one due to storage problems. So by making a ironing pad I could iron on the table which would make the job much easier!
The project I want to follow is here on www.modabakeshop.com
I've already got a charm pack of fabric (Moda Sunkissed pack) which is waiting for a project, so this will be it's chance!
I'm about to order more thermal wadding (I've only got a bit left from my mums oven glove) and will get some Therma-Flec to complete the project.
Second Project:
For my birthday I'll be getting a cutting mat, rulers and rotary cutter (Note my birthday has already passed, I'm just waiting to go out and spend my money) So it'd be useful to make the Cutting Mat Caddy which is also here on the Moda bake shop website: http://www.modabakeshop.com/
Will be great to have a proper bag to store all my new kit in so very excited to make this.
I will need to save up for this as I don't yet have anything to make it, it will need to be red and white (ideally red with white spots as a main pattern) to go with the rest of my sewing kit 🙂
Third Project:
I've got a pair of jeans which are way to short (I think they've shrunk a bit which wasn't helped by the fat they were standard length instead of my normal long length jeans to start with!) So I'm going to be cutting them down to three quarter lengths and trying to neatly hem them to look like a pair I used to have which now don't fit.
As I already have the jeans this project might get started before any others, but it's low priority as the weather isn't really 3/4 length weather anymore!
Fourth Project:
I really like the idea of this dish rug on http://www.thatgirlthatquilt.com from that girl that quilt and it would be really useful as our draining area is quite small in the kitchen, and were usually stacking hard to dry items on the counter at the side of the sink to dry over night.
I haven't got anything together to start this yet, so everything will need to be added to the shopping list!
Fifth Project:
This coat from sewaholicpatterns.com is amazing, but unfortunately I haven't got the pattern or materials to do it for this winter, but hopefully I can make it next year, as I've not seen anything as nice to buy (whilst still being in my budget!)
This is what it looks like: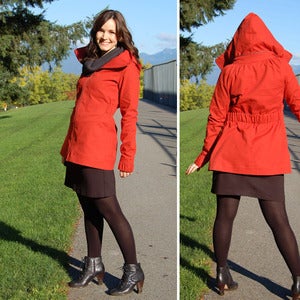 Sixth Project:
I'd really like to make a useful quilt. My first attempt was a small Christmas quilt, which isn't really much use so now I'd like to make a useful one. I like the idea of a quilt along, and really wanted to join in with this one from www.thatgirlthatquilt.com as I though it'd be really good to follow along whilst learning, step by step but I didn't have any equipment or materials when it started. I still hoping that I'll be able to follow it someday soon when I do have the stuff.
I've also fallen in love with this Super Mario quilt along from www.cuttopieces.blogspot.co.uk This would be amazing to do as Mario video game character is my favorite 🙂 Hopefully once I've got the mat ruler and cutter with my birthday money I can start this as I expect I can find enough scraps of colours to do a couple of squares at least and make some cushions which could go with the quilt once I've got everything together to make the whole quilt!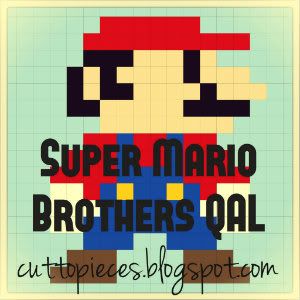 The quilt should look like this when complete:
Hopefully it wont be too long before I can post some of these projects as finished items 🙂